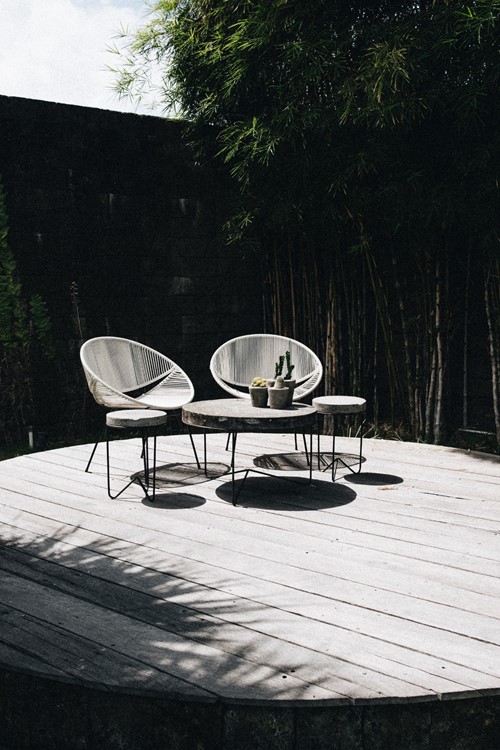 You can extend your living area by activating your outdoor spaces. Whether your yard is large or small, you can create a spot to entertain, read, or just relax with these tips:
Seating
Most outdoor spaces can accommodate some type of seating option. If you're working with a smaller porch space, try a hanging swing or a bistro table and chair. Add a dining table to a larger patio area or deck if you plan to host outdoor dinner parties or game nights. If you're looking for something more relaxed and flexible, opt for outdoor living room pieces. Search for weather-resistant, modular options that can be easily rearranged.
Sun and Insect Protection
If you have an uncovered patio space, consider introducing a pergola or a canopy. These options offer protection from the sun and wind which will make your time outside more enjoyable, especially if you live in a warmer climate. A canopy can be beneficial because it will often include netting options that offer protection from mosquitos and other flying insects.
Introduce Light
Add some lighting to your space to boost evening ambiance or to accommodate outdoor dining and games. If you opt for a canopy or pergola, consider introducing strings of twinkle lights, placing candles on tables or installing bug-repellant torches. For something more substantial, you may introduce a firepit. Wood, natural gas, propane and gel fuel options are readily available. Select the source that works best for your location and budget.
Introduce Color and Texture
You can liven up your space with pops of color and texture. Some options could be an outdoor rug, bright cushions and pillows for your chairs or planters filled with flowers and foliage. Hang a mirror on a wall or fence to create the illusion of extended space and depth whether your space is large or small.